Systems Engineering Workshop, 1971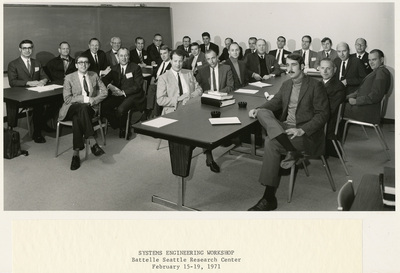 Description

Participants in a February 1971 Systems Engineering Worshop, held at a Battelle facility in Seattle, pose for a photo. Warfield is seated at far right, the third person in from the right side of the photo.
Source

John N. Warfield Collection, Box 102.1
Subject

John Warfield, Systems Engineerin
Creator

Unknown
Date

February 15-19, 1971
Type

Still Image
Citation
Unknown, "Systems Engineering Workshop, 1971," in Dr. John Warfield, Item #248, http://warfield.gmu.edu/items/show/248 (accessed August 20, 2017).