Warfield Leads a Meeting at Battelle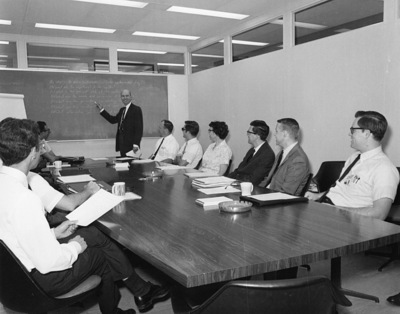 Description

This 1968 photo shows Warfield at the blackboard leading a discussion on a Battelle project for the Ohio Department of Education. Others in the photo include: G. Rosinger, H. Samuels, B. Fletcher, B. Vaigin, B. Gordon, K. Connell, R. Byers, D. Molnar, J. Allen, R. Abrams, and D. McFadden.
Source

John N. Warfield Collection, Box 102
Subject

John Warfield
Creator

Unknown
Date

October 1968
Type

Still Image
Citation
Unknown, "Warfield Leads a Meeting at Battelle," in Dr. John Warfield, Item #232, http://warfield.gmu.edu/items/show/232 (accessed August 20, 2017).