Interactive Management Workshop on Linkages Between Users and Producers of Technology in Ghana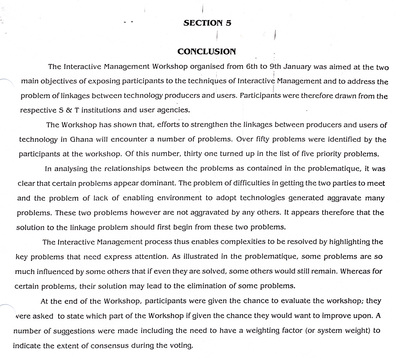 Description

This excerpt from a longer report details the conclusions of an Interactive Management workshop held in 1997 in Ghana, with direction from Warfield.
Source

John N. Warfield Collection 80.1
Subject

John Warfield, Interactive Management
Creator

Moses N.B. Ayiku
Date

January 1997
Type

Text
Citation
Moses N.B. Ayiku, "Interactive Management Workshop on Linkages Between Users and Producers of Technology in Ghana," in Dr. John Warfield, Item #225, http://warfield.gmu.edu/items/show/225 (accessed February 23, 2019).