Offer Letter from Pennsylvania State College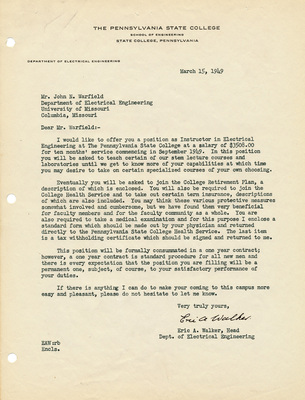 Description

Warfield returned to Penn State in 1949 as an Instructor in Electrical Engineering. This offer letter lays out the specifics of salary, duties, and the possibility of tenure.
Source

John N. Warfield Collection, Box 3.20
Subject

John Warfield, Professor, Electrical Engineering
Creator

Eric A. Walker
Date

March 15, 1949
Type

Text
Citation
Eric A. Walker, "Offer Letter from Pennsylvania State College," in Dr. John Warfield, Item #188, http://warfield.gmu.edu/items/show/188 (accessed May 30, 2020).