Recruiting Letter from Ordnance Research Laboratory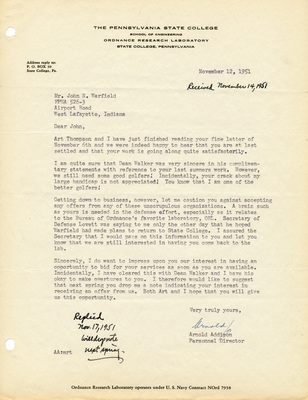 Description

This 1951 letter from Ordnance Research Laboratory Personnel Director Arnold Addison is one of a number of such exchanges he had with Warfield during this period. Note that he references Secretary of Defense Robert Lovett as someone keenly interested in Warfield's career track.
Source

John N. Warfield Collection, Box 3.20
Subject

John Warfield, Military Research, Professor
Creator

Arnold Addison
Date

November 12, 1951
Type

Text
Citation
Arnold Addison, "Recruiting Letter from Ordnance Research Laboratory," in Dr. John Warfield, Item #184, http://warfield.gmu.edu/items/show/184 (accessed August 20, 2017).